"About the Teeswater Sheep"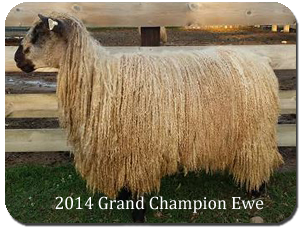 Teeswater sheep are a large, well-balanced, polled breed carrying a fine, lustrous, long stapled fleece. Its unique facial markings and long, soft, purled locks are trademark characteristics that set this regal breed apart. The Teeswater is intelligent and alert, yet is among the most docile of breeds. The head is of medium length with large ears and purled locks growing between the ears.

The body hosts a strong neck of good length firmly joining broad but not coarse shoulders. The ribs should be deep and well spaced supporting a strong loin. They should be a long sheep with square hindquarters that do not fall off at the rump. Thighs should be heavily fleshed and rounded. Legs are squarely set with a strong flat bone. The wool is soft and supple to handle, and retains its curl and luster after washing and spinning giving the finished product a iridescent sheen.

Traditionally a dual purpose breed, Teeswaters provide a superior fleece and are renowned for their ability to pass on size, prolificacy, and carcass quality when crossed with other breeds.


Statistics
Average Mature Weight: Rams: 250 - 300 lbs. Ewes: 150 - 250 lbs
Average Prolificacy: Yearling ewes - 200%, mature ewes 250%.
Birth Weight & Growth Rate: Lambs will average 10 - 13 lbs at birth with a growth rate that enables a lamb to reach 100 - 160 lbs at five months of age. Average lamb weight at eight weeks: Singles 50 - 57 lbs. Twins 40-48 lbs.
Micron Count: 30 - 35.
Staple Length: 8 - 12 inches.
Yearling Fleece Weight: 10 - 15 lbs.
More Information from the UK RBST, about Teeswater Sheep - [
click here
]
History
1997, Dr. Gourley imported the first Teeswater and Wensleydale semen into the United States.
1998, The First 50 percent Teeswater lambs born in the United States.
1998 the Teeswater Registry was started, registering almost 200 sheep before 2007 when the American Teeswater Sheep Association was organized. At the beginning of 2014 over 1000 Teeswater sheep have been registered in the United States.
The Teeswater Sheep Society of North America has been developed to provide support for the breed and breeders, the founding members have done the hard work and fought the battles with government red tape and starting from scratch. While all North American Teeswaters have the possibility of creating a colored Teeswater we will embrace those sheep as fortunate events and not a slight to the breed. Colored sheep have appeared in totally white flocks forever and have been given value through many of the established sheep associations, just as they are valued here. TSSNA also provides a gathering place for the breeders and fiber artists who create masterpieces with the beautiful fiber grown by these outstanding sheep!
Lakeland Majestic was the first Teeswater ram collected, and shortly after that the U.K. went through a bout of Foot and Mouth which halted the collection of any more rams for four years. With the restrictions finally lifted six more rams were collected over the years and have made the trip to the United States.
Currently, we are back to waiting for restrictions to clear the way for new genetics to be allowed to come in from the U.K.
Collection Rams
Below you will find the information available on the Rams that were chosen for collection. View our
Breeders
directory for information about where to purchase semen and A.I. Technicians who are happy to help you get a flock of these beautiful sheep grazing in your pasture.
Lakeland Majestic
No Picture Available
Bred by Darrel Pilkingon, Owned by Marion Reed
Pately Prince Charming
No Picture Available
Owned by Andrew Fisher
Royal Prince
No Picture Available
Owned by Bainbridge Brothers
Rimington Crusader
Owned by Darrell Pilkington
Endmoor Magic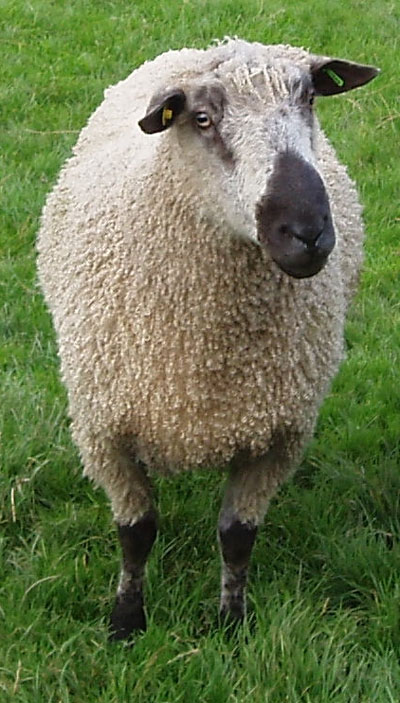 Bred by M. Berry,Owned by Darrell Pilkington
Rimington Playboy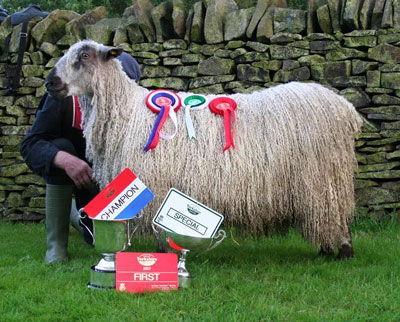 Owned by Darrell Pilkington
Grey Green Star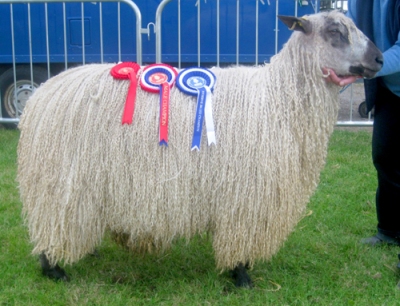 Owned by Darrell Pilkington
"Special thanks to Darrell Pilkington, Higher Gills Farms for providing photos."